Age: A quarter century
Home: El Cajon, California (San Diego Suburbs baby!)
Sponsors: Zoo York (flow), Osiris (flow), Ricta, Mob grip, Thunder
(flow), Pacific Drive, Elwood (flow), Toebock
Video game you're hooked on: Not into them.
Pro-model shoe you were most stoked on when it came out: The éS Koston 2 was dope and my boy Shuriken is about to have a shoe I think, if so congrats!
Am that should be pro: Marius Syvanen, Brandon Westgate.
Favorite TransWorld cover: That's a tough question, but the Reynolds frontside flip over Silvergate 14 was an ill one.
Album so good you'd actually buy it: Marvin Gaye, Greatest Hits, Nas, Lost Tapes, The Decemberists, Picaresque.
Best video as of late: Last of the Mohicans, Mind Field, Don't Act Famous.
Video you can't wait to see: Zoo York's State of Mind.
Your favorite pro: Mike Carroll.
Last photo you shot: Nollie flipping a tall gap that put me out of commission.
Pet peeve: Negativity.
Last injury: A bad ankle sprain, see last photo you shot.
Food destination: Lefty's Chicago Pizzeria, so good.
Filmed by: Cuong Lieng, Russell Houghton, Cameron Sanchez, Alex Pinnachia, Nate Dean and Fernando Garcia
Edit by: Cameron Sanchez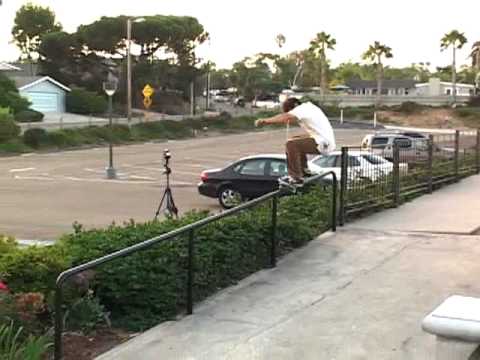 Pablito, Little Paul, LP, or whichever you prefer to call him, has been a mainstay for many years in the San Diego skate scene. I've been friends with Paul for quite some time and I've witnessed him progress and his talents grow beyond his physical stature. He's got a lot of heart, and when he skates, he goes all out. Although Paul is a determined skateboarder with his eyes on the prize, he's more likely to tell you about the most recent book he's been reading than the latest skate gossip. Paul sets himself aside from the pack by letting his skating shine through and when he speaks his mind there's depth to his words. Paul loves to get on the road and can be often caught making new friends in far off cities with the Toebock crew when he's able to jump on those missions. Keep an eye out for a little guy with a big vocabulary and an even bigger bag of tricks.  If you see him on the streets, buy him a cup of coffee and get ready for some real talk.  Cheers Paul, it's going to be a good year. Lead by example and don't act famous!—Mike Fitz
Photos: Blair Alley & Jason Hainault
CATEGORIZED:
Events
,
Features
,
Interviews
,
Interviews
,
Marqueed
,
Photos
,
Videos
TAGS:
Osiris
,
Paul Sewell
,
Toebock.
,
video Check out
,
Zoo York