éS Game of SKATE in Wilmington, Delaware
Winner: Brian Peacock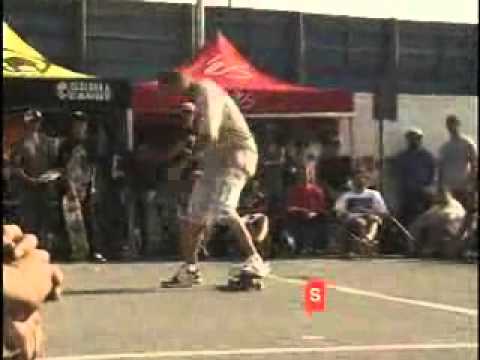 Game Report: éS Game of SKATE — Wilmington, DE, August 3, 2009
After Maryland, the éS Game of SKATE made its way to Kinetic Skateshop in Wilmington, Delaware where 160 skateboarders came out to play SKATE. The game was held at a nearby stadium under the hot sun, and fortunately the friendly folks at Kinetic provided some cold drinks.

Once again there were plenty of familiar faces in the crowd: Dontae Benjamin and Allen Beers skated all the way to the top 12, Nick Hertges was taking out skaters left and right, past winner Freddy Obrecht and the tough contender Jimmy Loebach were also skating. Mike Anderson's younger brother Jake even in the mix too.

The 3 that outskated everyone to the finals were Matt Ray, Brian Peacock and Arthur Lagauskus. Brian Peacock controlled the game for 15 tricks, eliminating Arthur Lagauskus before finally missing a trick. Matt and Brian matched tricks back and forth but it was Brian who took first place with a switch backside heelflip being the final trick.


Congratulations to Brian and special thanks to Kinetic for a great game!

Photos by Phil Blair
Words by PJB